"What's Galentine's Day? It's only the best day of the year! Every February 13th, my lady friends and I leave our husbands and our boyfriends at home and we just come and kick it breakfast style. Ladies celebrating ladies." – Leslie Knope, Parks and Recreation.
Unlike Valentine's Day, Galentine's Day puts the focus on what you have and not what you don't. It is not about one special person in your life but all the wonderfully special girlfriends in your life. And for those of you already in a romantic relationship, it doesn't mean you can't celebrate your own Galentine – or Palentine's Day, too.
Other than the obligatory mimosas at brunch, we have gathered five ways to celebrate the female friendships in your life:
Paint and wine evening
To celebrate Galentine's Day creatively, check out a local paint-and-wine studio. You and your Galentine(s) can try your hand at painting on canvas while enjoying some wine. As the unique artistic abilities of each girl emerge, there will undoubtedly be lots of amusing moments.
Spa Day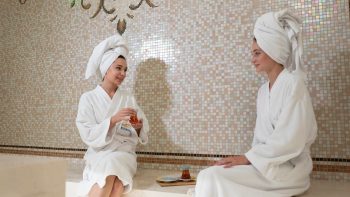 Make a day at the spa with your best girlfriends. You and your pals should visit a local spa, make reservations for a day of spa treatments, and spend the day unwinding and having a good time together.
Secret Cupid
Know what a Secret Santa is? Yes, it's the same concept as Secret Cupid. You and your friends could arrange a gift exchange for Galentine's Day. Each Secret Cupid sends a gift to the home or office of her best friend on Galentine's Day.
Bake off
Friends for life stick by one another whether they're dating someone special or not. You and your girlfriends should hold a baking competition to determine who among you is the most inventive in the kitchen.
Ride or Die
Game night
If your girlfriends love a friendly competition and a night in, board game night may be the best Galentine's Day idea for them. Have your Galentines over for a cosy evening in competing to win board games, eating fun snacks and sipping on Galentine themed drinks.
Feature Image: Pexels