With everyone traveling abroad to escape the cold, we decided to tap into our travel era closer to home.
Right on the Western Cape's doorstep is the beautiful coastal town of Hermanus. Over the weekend, we experienced City Sightseeing South Africa's newly launched Hermanus Explorer Day Trip tour, and it was one for the memory banks!
An adventure from Cape Town to the tiny coastal town lay ahead, as we hit the road for a two-hour drive to the scenic, charming local town. Many know Hermanus for its whale season attraction, but we were there to experience so much more…
Seeing home through fresh eyes…
The journey started on Cape Town's roads that we know best, but we were suddenly experiencing them from a new perspective.
As we left the city center of Cape Town, spectacular views of Table Mountain and morning sun rays snuck through the mountains to greet us, as we started our journey.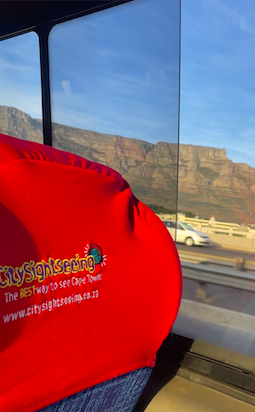 ALSO SEE: And The Greatest City on Earth goes to…Cape Town!
The road to our first pitstop was accompanied by facts, quirks, and tidbits of trivia, and we even learned something new about the Mother City! As we passed by Table Mountain, our bubbly tour guide beamed with pride as he explained that there's a spot of vegetation on Table Mountain just below the cable house that's in the shape of Africa, the trademark of life itself!
Hopping off at the Pitstop…
On route to Hermanus, we were welcomed for a quick snack and a big stretch at a quaint coastal restaurant called 'Pitstop'. Greeted with warm beverages and a delicious brekkie, we were geared up to hit the road to Hermanus. No snack cravings or leg cramps to distract us from the idyllic scenery…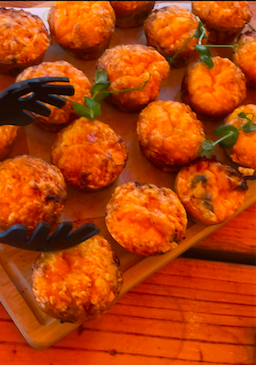 Driving along the coast, we marvelled over immaculate views of the wide Pacific Ocean. The tour, designed to showcase natural beauty, secret gems and tourist attractions on route to Hermanus, ended up being one of the most beautiful routes we've ever visited.
After a few photo-op stops, we made it to Hermanus, greeted by whales in the distant ocean, breaching and putting on a magnificent show. Whale-watching from a breathtaking mountaintop is an incredible experience…
Lunch at The Wine Glass in Hermanus
All that sightseeing really built up an appetite, so we stopped for lunch.
'The Wine Glass'opened its doors to welcome us for a wine tasting of their best selection, and a tapas-style lunch. Small plates of signature dishes circled as glasses swirled.
We feasted on flavourful baboti spring rolls and zucchini fries, with Asian-style veggie wraps and scrumptious calamari before rolling back onto the bus.
Before hitting the road for the next leg, we walked the famous 'whale watching walkway' along the coast, in the hopes to spot another whale, but they were napping, and we had another adventure to go on…
Welcomed at a wine cellar in Hermanus
An incredible wine-tasting experience awaited us in the chilly cellars of the Bouchard Finlayson Winery, where we tried their finest wines accompanied by warm bread and delicious olive tapas. Despite the cold environment in the cellar, the wine kept us very warm.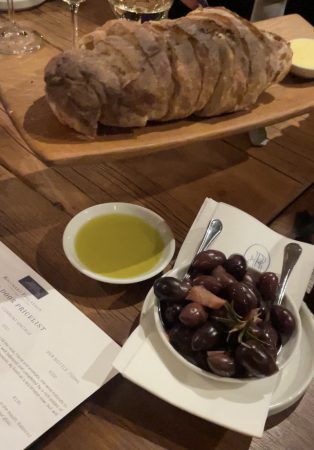 Making our final stop before heading home
Before heading home, the aromas of fresh, warmly baked bread drew us to our final stop at Peregrine Farm Stall in Grabouw – an absolute must if you are journeying to or from Hermanus! After one last leg stretch, restroom break and a little bakery binge-shop, our day trip had come to a gratifying end.
Heading back to Cape Town was bittersweet, but the unmatched sunset views as we cruised by Somerset West were well worth it, as we reflected on the wonderful day and the beautiful country we call home.
If you're feeling low on inspiration, a day trip to Hermanus will lift your spirits.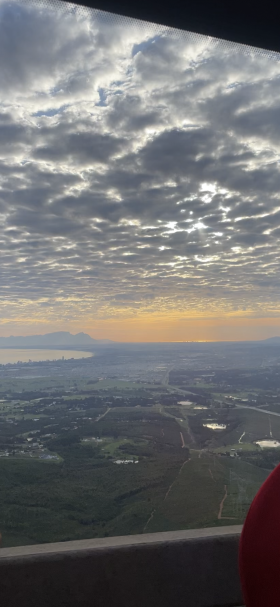 The Hermanus tour package:
City Sightseeing offers a spectacular Hermanus Explorer day tour, which includes:
Panoramic views of Hermanus and Walker Bay.
Live guided tour in English.
Free Wi-Fi on the bus.
Scenic coastal drive.
A choice of wine tasting and cellar tour, or boat – based whale watching (additional charges) or additional leisure time, exploring the town of Hermanus and its array of interesting shops and sites.
View this post on Instagram
To book a day trip with City Sightseeing to Hermanus call 021 511 6000 or visit their website.
ALSO SEE: 
Artscape to host tenth South African International Ballet Competition
Feature Image: Instagram / @citysightseeingsa