Your neck and décolletage are often overlooked areas in skincare, and yet they are prone to showing age faster.  The skin there is thinner than on your face. This means that it collapses more easily into wrinkles and folds. Particularly given the way we twist and turn and stretch and compress our necks! Then there's the fact that there are few precious oil glands in neck skin to keep the skin supple. Whatever age you are, start paying it more attention in your skincare routine now with these anti-aging neck products.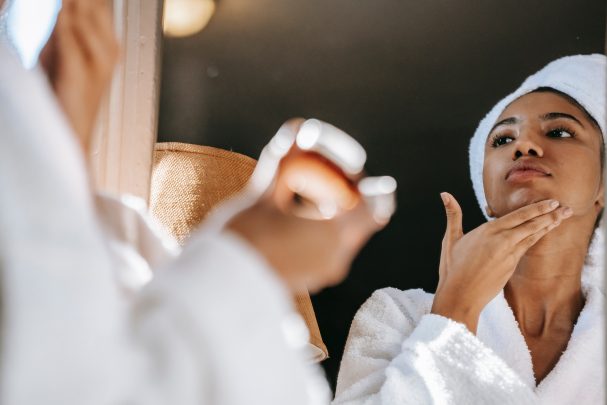 Prep
Avoid harsh scrubs on this delicate area. Instead apply an enzyme peel that will eat away at any cell build-up. Try: Nimue Exfoliating Enzyme for R720, Cosmetology.
The sheet mask
A pocket-sized single application mask that gives skin a direct hit of hydration and prevents quick evaporation. Mask are the best tool for allowing ingredients to penetrate deep into the skin. Try: Sorbet Firming Neck & Chest Sheet Mask for R29.99, Clicks.
Firm up
Going for a peptide-rich serum that boosts collagen will provide an instant lift where you need it most. Try: Sothys Perfect Shape Youth Serum for R1 475, Orleans Cosmetics.
Sleep in it
An overnight mask is great when time is short. When looking for anti-ageing neck products, check for formulas packed with ceremides. This is to lock in moisture and protect skin against environmental damages while you snooze. Apply it to your face, neck and décolletage. Try: Elizabeth  Arden Ceramide Overnight Firming Mask for R815, Truworths.
Protect it
The only way to prevent fast ageing is to layer on the sunscreen! Choose a high SPF to protect against sun spots and that leathery texture. You'll want a formula that leaves no white cast. Try: NUXE Sun Light Fluid High Protection SPF50 Shaker for R525, Woolworths.
Illuminate
We all need a bit of gravity-fighting power. Dedicated anti-ageing neck products that stimulate collagen will increase luminosity to the skin. Try: Placecol Illuminé Neck and Decolleté Lift for R410, Cosmetology.
ALSO SEE IS YOUR SLEEPING POSITION AGEING YOU?