The baobab tree is synonymous with images of the African wild. Those who live in baobab country have long used just about every part of the tree, from the fruits, leaves and even roots. Now it is taking over the beauty industry in the form of baobab oil. Here is all you need to know about this powerful natural oil.
Why baobab oil?
A lot of lotions and moisturisers on the market are water-based. This means that they require added substances like synthetic preservatives, performance enhancers and fragrances to keep them stable. Natural organic oils though rarely need any of these additives. The proudly African baobab oil in particular is very stable and does not require preservatives. In fact, it has a natural shelf-life of two years or more!
Baobab oil is a naturally light oil made up of very small molecules and therefore absorbs quickly and easily into the skin. This means your skin is left with a soft satiny finish rather than with a greasy residue. You'll be dewy, not oily. Plus, there's no fear of clogging pores.
What are the skincare benefits?
One of the reasons baobab oil has become a popular skincare ingredient is due to how incredibly rich in omega-3 fatty acids is. Research has shown that this can:
moisturise skin;
help prevent the skin from losing water;
soften skin;
improve skin texture;
improve skin elasticity;
help repair the skin barrier;
help to heal skin faster;
reduce inflammation.
How to use baobab oil in your routine
BaoCare is a proudly South African skincare brand that harnesses the power of organic baobab oil to offer consumers 100% natural healing baobab oil serums suitable for the whole family.
For a healthy glow, try BaoCare Radiance Baobab Oil, R199 for 50ml. This rich, luxurious blend of exceptional botanical oils will smooth, soften and plump up your skin giving it a satiny finish and a naturally radiant glow. Enriched with jojoba oil (which supports youthful elasticity), pomegranate (which protects against damage from UV light), vitamin E, ravintsara, ylang ylang, rosemary and lavender essential oils, this beautifying oil deeply nourishes and hydrates.
TOP TIP: For super luminous skin, mix a few drops with your liquid foundation before applying to the face. We got this tip from the queen of glowing skin herself, Nam Vo. Spot her healthy – and dreamy – glow in the cover image of this article!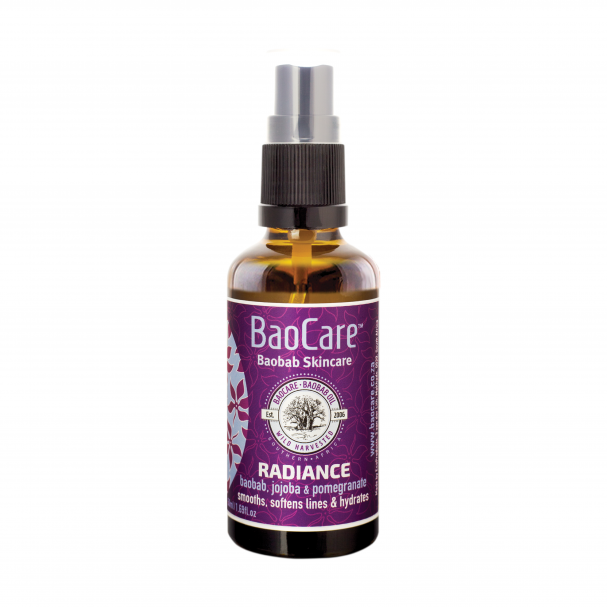 For dry skin (and perfect for the harsh winter months!), try BaoCare Nourish Tissue Oil, R175.00 for 50ml. It's also helpful to reduce the appearance of scarring and stretch marks. It's a skin serum that penetrates deeply to feed your skin yet absorbs quickly without leaving an oily residue. Think of Nourish Tissue Oil as the perfect partner for your skin – always there when you need it, always caring and helpful, always nourishing.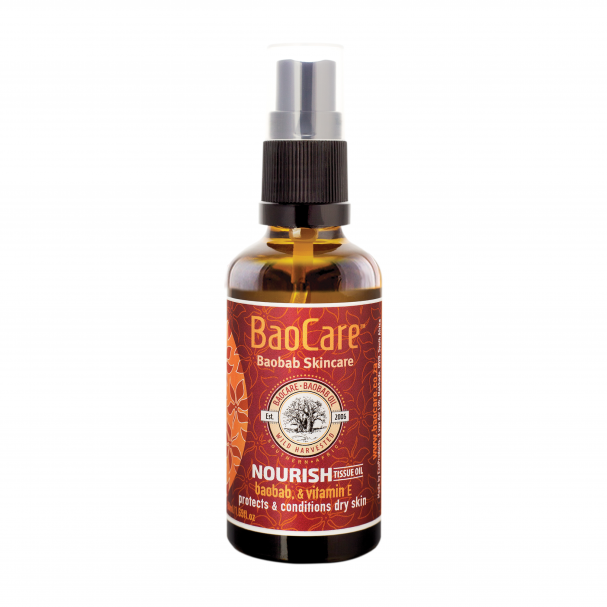 Not sure which is the best buy for you? The BaoCare Skin Rescue Kit, R229, combines their five unique baobab oil skincare products in a travel-friendly pouch. These can help with anything from dryness and blemishes to itchy bug bites and sunburn. There's even a baby oil!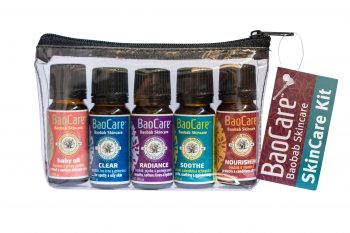 Cover image of Nam Vo from her Instagram @namvo.
ALSO SEE: