I love an instant fix – better yet, something that gets to work fast, but delivers results that actually last. Did these patches pass the test? Most definitely so. 
ALSO SEE: All you need to know about the prejuvenation skincare trend
In the age of quick fixes that promise to cure this and remedy that, it's understandable that we're often a little bit skeptical. Sure, we would like to think that we can turn back time on our wrinkles, but is it possible to do it overnight? I put the new Skin Republic Anti-Wrinkle Smooth Patches to the test – a brand that I'm partial to, not only because I love a sheet mask, but because their ingredients are straight-forward and their price point fair.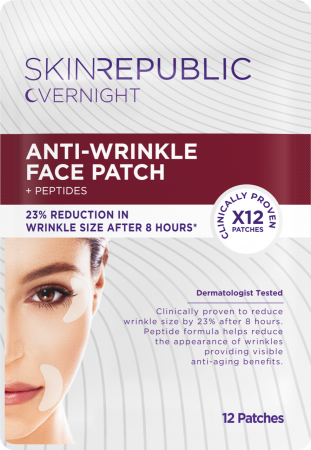 I was wholeheartedly excited when I got to test their new patches, and boy, I really hoped they would work even though I thought it might all just be a gimmick.
On the first night I went all out by carefully placing the patches around my mouth, on my crow's feet, between my eyebrows and on my forehead. I could not move my face, which is exactly what you want when the whole point is to prevent your muscles from contacting (especially for me, a notorious frowner).
When morning came I did not expect to see major results, but to my surprise, I did. Although I might not have the deepest of wrinkles yet, the most prominent ones were significantly smoother and virtually undetectable, and the skin felt more plump. The peptide formula that is infused in the patches most definitely did its job, and night after night it was proven.
Collagen and hyaluronic acid further adds to the skin-boosting ingredient list, which prevents skin from drying out overnight.
And although the patches prevent movement, it doesn't feel uncomfortable. Over the next two weeks it became something that I looked forward to do every night, but if you're just looking for a quick fix before an important event, these patches will do the job in a flash.
Skin Republic is committed to simple and effective skincare, which is why this innovative product can easily fit into any routine, and at any age. And because it works best when your skin is in recovery mode (overnight), there's no fuss, no mess, just results.
Those results coming from a clinical study that showed a 23% reduction in fine lines and wrinkles, but also first-hand experience from someone who often finds products to sound too good to be true.
In this case, it's good, and I can happily report – true.
Try it for yourself – Skin Republic Anti-Wrinkle Smooth Patches are available now, from Clicks or online at theskinrepublic.co.za – R79.99 for 12 patches.
Written by Leandri de Kock.
ALSO SEE:
Feature Image: Supplied