Eco-conscious beauty is the trend that grows year upon year. It seems that 2022 might be one of its best years yet with this week's launch of N°1 DE CHANEL. It marks a new generation of skincare from the formidable French luxury brand, one centred on an eco-responsible return to essentials and longtime youth.

Beauty ahead of time
The holistic and revitalising N°1 DE CHANEL line features beauty products that work to preserve skin vitality and radiance. Its star is the red camellia, an emblematic flower of CHANEL. This phenomenal flower is a force of nature, as neither water nor cold have the slightest effect on its petals. With its winter blooms and evergreen leaves, this plant is remarkable in more than one way, and is a genuine botanical treasure.
After ten years of experiments, carried out in collaboration with Department of Biotechnology and Ageing at the University of Natural Resources and Life Sciences in Vienna, CHANEL research revealed new science around cellular activity and skin ageing. The most promising ingredient in supporting these key anti-ageing insights? The red camellia, of course.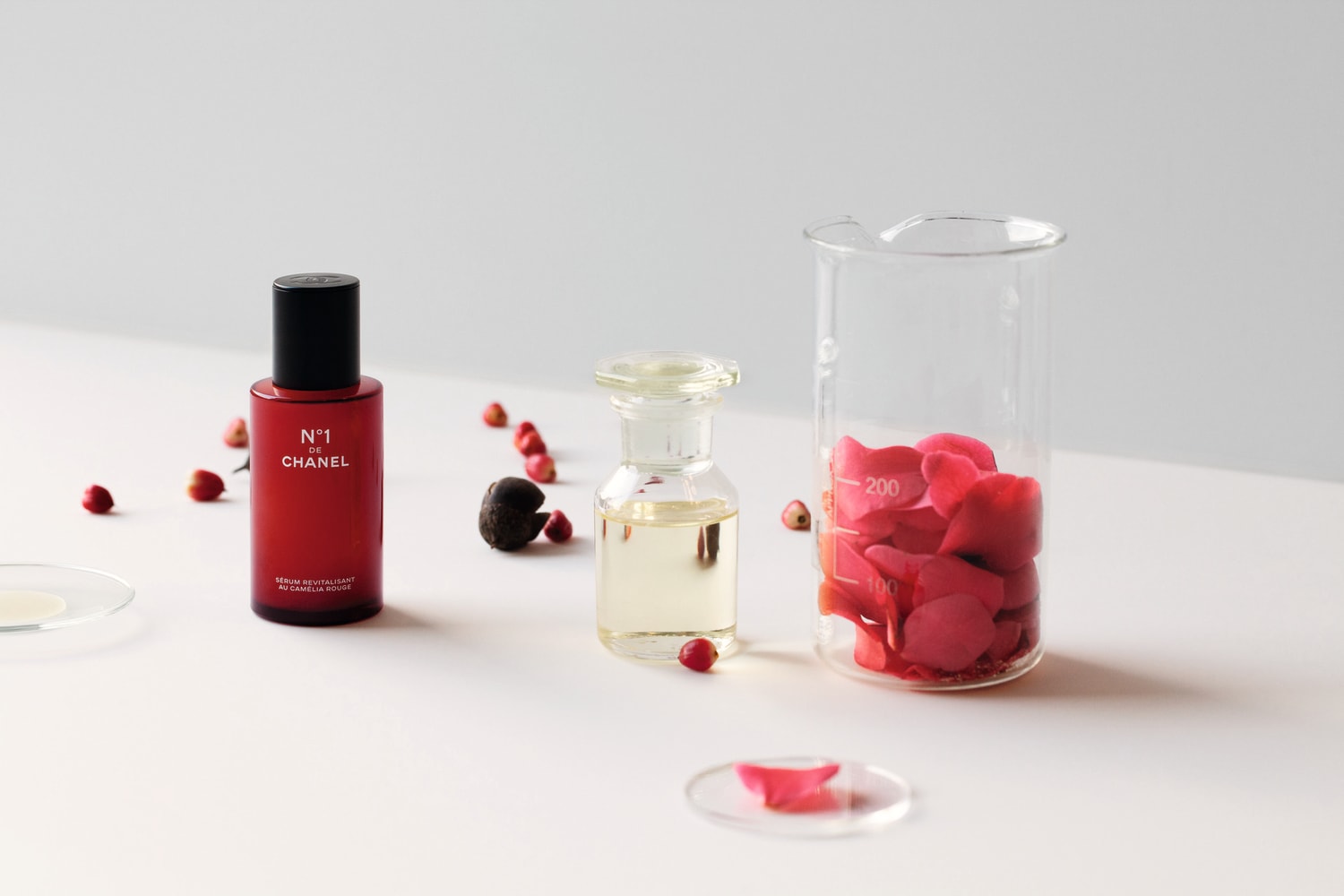 At the heart of its petals, it contains a concentration of protocatechuic acid. This powerful molecule makes the flower a key ingredient in the N°1 DE CHANEL line as it supports skin vitality, thereby enabling skin to remain healthy looking for a longer period of time. Naturally rich in antioxidants, the red camellia also helps protect skin from the consequences of stress and helps improve quality for a skin that looks radiantly youthful.
Simply put, using the powerful properties of the red camellia flower, paired with never-before seen anti-ageing research, CHANEL have created a line of products that preserve the youth of your skin – keeping you and your face radiant for longer.
Sustainability
'Nature influences us and in return, we also have an influence on it, for which we are responsible,' CHANEL has written upon the release of N°1 DE CHANEL. It is why they have been working on incorporating environmental evaluation criteria into their products and product design in order to limit its impact at every step in the life cycle. One of CHANEL's prioritise has been to develop formulas with a high percentage of raw materials that respect the environment and are sustainably sourced.
Not only do the N° 1 de CHANEL formulas honour ingredients of natural origin that are renewable and have reduced environmental impact, but they have approached packaging with eco-responsibility too. Here's what you need to know about the line:
Formulas contain up to 97% ingredients of natural origin;
Formulas include up to 76% camellia derivatives using the petals, seeds and yeasts in order not to waste any of the plant;
All packaging is eco-designed;
80% of the products are packaged in glass;
Plastic usage has been limited, cellophane and paper leaflets have been replaced by a QR code to access all product information;
The Revitalizing Cream jar is refillable and patented, with a lid composed of 90% bio-sourced materials from renewable resources incorporating the seed shells from the red camellia.
N°1 DE CHANEL products
For the launch of this science-based, sustainability rooted collection CHANEL have created nine products covering skincare, makeup and fragrance:
Powder-to-Foam Cleanser
Revitalizing Lotion
Revitalizing Serum
Revitalizing Illuminating Eye Cream
Revitalizing Cream
Revitalizing Serum-in-Mist
Revitalizing Foundation, 14 shades
Lip and Cheek Balm, 6 shades
Revitalizing Fragrance Mist
N°1 DE CHANEL is available at CHANEL Fragrance and Beauty Boutiques, Sandton City and V&A Waterfront.
Supplied content.
ECO-CONSCIOUS BEAUTY AND SKINCARE WAS ONE OF THE PREDICTIONS INCLUDED IN OUR ARTICLE 2022 SKINCARE TRENDS AS PREDICTED BY DR NIKOLIC OF SKINMILES. READ MORE:
2022 Skincare Trends, as predicted by Dr Nikolic of SkinMiles