The best part of winter, for me, is taking a hot shower when my toes are so cold I can't feel them anymore. This often goes paired with too hot water which then, unfortunately, dries our skin out even more than it already is. In order to reverse this damage we tend to just slap on the nearest moisturiser but don't take into consideration that our skin needs a little more care in winter. Now although I'm most definitely not going to opt for a lukewarm shower, I will take a little extra time to put hydration back in my skin. For this, a massage bar is the perfect salvation.
The Lush Sleepy Massage Bar intensely hydrates with organic cocoa butter – something I feel is a lot more nourishing than coconut oil which tends to just feel, well, oily. Chamomile and lavender means it's gentle on all skin types while it puts you in the most serene slumber mood. In summer it would work perfectly as a post-sun soother thanks to benzoin resinoid, and it also leaves an undeniable glow on the skin that lasts for hours.
But what I found most alluring about the Lush Sleep Massage Bar is the smell – it's warm and soothing but fresh at the same time, and the ritual of gliding the bar across warm skin is utterly relaxing and feels luxurious.
Best applied straight after shower before getting dressed, or whenever you can take extra time to massage tired limbs.
Lush is a cruelty-free, natural ingredients brand with loads of package-free options available.
Buy your Lush Sleepy Massage Bar  (R135) from the Lush online store.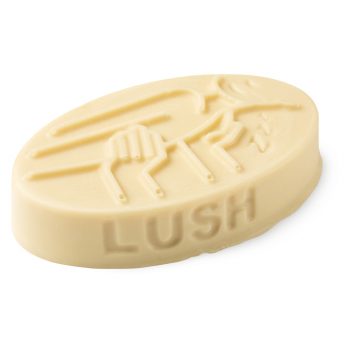 Words by: Leandri de Kock, Junior Beauty Editor at W&H