Cute scenes by the fireplace, warming up with red wine and the comfiest knits – some of winter is totally dreamy. But the cold season also tends to bring around a bad case of flaky, cracked lips. We spoke to Dr Alek Nikolic, renowned specialist in aesthetic medicine and owner of SkinMiles, for solid advice on how to beat dry lips this winter. Once and for all!
What Causes Dry Lips In Winter?
Dr Alek Nikolic explains that it is all down to environmental changes. 'The cold weather tends to be dryer with less humidity,' he says, 'This naturally strips our skin from essential moisture through transepidermal water loss.' The process of transepidermal water loss is a natural one, and occurs all the time. However, the low-humidity winter air compromises the skin barrier and aggravates water loss. The result? Dry lips with skin that is noticeably cracked and flaky. Dr Alek Nikolic adds that the constant use of heaters 'which further dry the air will also aggravate the skin and promote dryness.'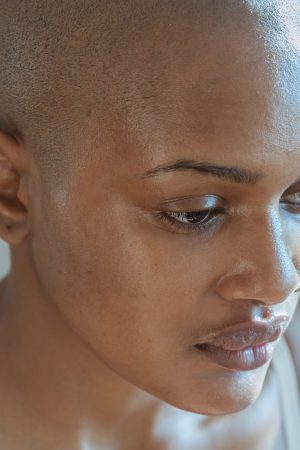 The Don'ts
Suffering from dry lips right now? Above all, Dr Alek Nikolic advises to be careful of ingredients that can sensitise chapped skin as well as acidic/alkaline ingredients that can aggravate the skin. Therefore you need to avoid:
Lip balms that contain flavourants such as menthol, eucalyptus, camphor and phenol.
Salicylic acid peels or exfoliators.
Anything with a scent in, even if it is naturally derived.
Licking or picking at ones chapped lips. We know it's hard.
The Best Products For Dry Lips
Dry Lips should be approached in a similar manner to dry skin. The key is to use moisturising agents like humectants and moisturising ingredients like Hyaluronic acid, ceramides, fatty acids and lipids. Dr Alek Nikolic recommends the following healing products, all available from the SkinMiles online store, to get those dry lips smooth and luscious again:
Home Remedies
While you wait for your product of choice to arrive, Dr Alek Nikolic has a few at-home remedies for dry lips that you can do in the meantime. He advises that household ingredients 'like honey, cucumber, green tea and coconut oil can all help moisturise dry lips. It has also been shown that both honey and cucumber have mild anti-inflammatory effects which can further help dry lips.'
With a high content of beneficial minerals and vitamins as well as known for its super hydrating properties, aloe vera gel is another household item that can be effective. Try ensure it as close to its pure form as possible as additional ingredients may be damaging to lips. To gently stimulate the skin Dr Alek Nikolic recommends a very gently sugar scrub, the keywords here being very gentle! There is a luxurious recipe here, but a combination of sugar, honey and coconut oil mixed into a paste will do just fine.
 How To Avoid Dry Lips In Winter
If you chronically suffer from dry lips when the cold fronts hit Dr Alek Nikolic advices the following lifestyle changes:
Try and drink at least 2 hours of water per day. Try it with lemon and mint if you struggle to drink plain water, but warm herbal teas also count.
Increase your healthy fats intake. Think avocados, nuts, seeds and olive oil.
Avoid excessively hot showers and baths.
Consider using a humidifier at home or at work, wherever you spend most of your time. It will help boost the air quality.
Use SPF everyday, especially on sensitive lips!
ALSO SEE: