One of my favourite TV shows growing up might be a little surprising. Mythbusters! Now I am taking my old favourite TV show to the beauty counter and separating fact from fiction. Here are 5 common beauty myths, busted!
#1: Toothpaste For Pimples
Hands up, who remembers doing this in their high school days? Back then the skincare options that exist today just weren't around, cheap at-home treatments got us through! Yet earlier this year the beauty myth made a comeback when in a YouTube video for Vogue's Beauty Secrets series, model Gigi Hadid announced: 'A strange thing that I do, that my mom taught me, is that I put toothpaste on spots at night and it dries it out. I might get in trouble for saying that, but that's what I do!'
And get in a little trouble she did. One of the reasons this beauty myth became popular is that toothpaste used to contain
triclosan
which some studies claim prevents excessive sebum production. However, toothpaste no longer contains triclosan since the

FDA banned its use in some products.
Toothpaste does include ingredients like sodium lauryl sulfate (a type of detergent meant to be rinsed off after a short period of time), fluoride, and baking soda though. While teeth are bone and can take these ingredients, they're irritating to delicate skin. And the drying out we see? That's thanks to sodium lauryl sulfate which strips the skin of its natural barriers.
Suffering from a breakout? Put the toothpaste down and use Lelive's Save Our Skin (SOS) – peach and aloe AHA/BHA exfoliator instead. It's one of my personal favourites, you can trust me on this!
#2: Cucumbers For Panda Eyes
Gigi isn't the only one giving old school beauty myths a comeback. Cucumbers to treat dark circles and puffy eyes has been rising in fame again thanks to the trending TikTok hashtag #frozencucumberhack. And it turns out it is worth keeping around! Well, sort of. While cucumbers do contain vitamin K which has been suggested to improve dark circles under the eyes, there just isn't enough trusted research to confirm it. And placing a cucumber over panda eyes definitely won't change anything overnight.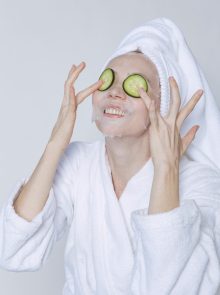 However placing cucumbers on your eyes is still worth the hype if you want to treat puffy, dehydrated eyes. Puffy eyes occur from vessel dilation and swelling. Placing the coolness of cucumbers on the affected area will constrict these vessels, slow blood flow and ease puffiness. Extra points if you use a frozen cucumber which will retain its coolness for longer!
And that's not all, cucumbers can be helpful if your eye area is feeling a little dehydrated too. When placed topically, cucumbers have shown to help cells retain moisture.
Take this beauty myth to the next level by following the major hydration hack Esthetician Erin Larson shared with beauty mag Allure recently: Apply a serum containing hyaluronic acid (which "draws hydration from the environment into the skin" and temporarily plumps skin) under your eyes, then place cool cucumber slices above this and let it sit. This tackles dry and puffy eyes all at once! And possibly your dark circles, the jury is still out on that.
#3: Hair Products For Split Ends
Some beauty myths come from home remedy methods, but this one probably gained popularity from misguiding marketing. Hair products are not going to save your split ends. Unfortunately there is only one way to get rid of split ends: a haircut!
Split ends form due to stress on the hair. Usually from colouring, perms and heat styling resulting in fraying or separating hair. While products which combat the stress your hair can go through will prevent split ends, they cannot fix them once it has happened. Prevention is key here. If you are trying to build up the courage to go for a chop and get your tresses healthy again, hide split ends in the meantime with oil, serum or cream products.
#4: Coconut Oil For Moisturising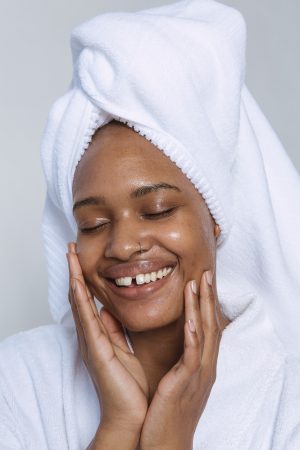 Coconut oil has long been hailed a miracle pantry product to cure and heal all, so busting this beauty myth might break some hearts.
First for the good news. Yes, coconut oil is actually a great moisturiser! It is naturally rich in fatty acids and has both antibacterial and anti-inflammatory properties. This means it moisturises, protects and soothes skin. However coconut oil is fairly comedogenic (meaning it has the tendency to clog our pores) so it is not recommended as a facial moisturiser – especially if you have oily skin or are prone to acne. In fact some experts even recommend not to use it on your chest, back and shoulders if you have oily or acne prone skin.
Coconut oil should not be used as a facial moisturiser but it is still a wonderful product for the rest of your body – just make sure you are choosing a quality brand. Along with being a body moisturiser, coconut oil can be used as a makeup remover (especially for double cleansing), the first step in cleaning make up brushes, a base for DIY body scrubs, lip balm, natural deodorant and a hair protectant.
#5: You Can Shrink Your Pores
The lucky ones will have to look closely to see them, for the rest of us they're a daily skin concern. Pores – they're actually incredibly important, but they tend to have a bad rep. Pores are small hair follicle openings on your skin that connect to oil glands below, working to get oil and sweat to the surface of the skin. But is the beauty myth that you can shrink them true or false?
A little bit of both. Pore size is genetically determined, however they can become enlarged and more visible for two reasons:
Your collagen has weakened due to age, sun exposure or skin trauma causing the walls of your pores to lose their strength and expand.
Your pores have stretched out because they have become clogged with dirt, oil and bacteria.
With exfoliators, detoxifying masks and products to strengthen your collagen you can make some impact to the size of your pores. Lucky you, there's already a whole run down on our website!
ALSO SEE HOW TO MANAGE LARGE PORES